Make sure you buy your Bobby Dalbec stock while you can still get it at a manageable price.
The Boston Red Sox first baseman has not had a good start to the 2021 season. The 25-year-old enters Tuesday game versus the Mets hitting just .241 with an on-base percentage barely over .300. The thing that really catches your attention, though, is the lack of home runs. Dalbec hit an admittedly unsustainable eight home runs in 23 games last season after making his debut. He has yet to touch 'em all in 18 games this season.
So, what gives? Dalbec is one of the more fascinating statistical cases on the Red Sox roster. His power is elite. When he hits the ball, he typically hits it a mile. His problem at every level of professional baseball has been making enough contact to really maximize the power. Dalbec has gone to the plate 63 times in 2021; he has returned to the dugout after striking out 21 times.
His Baseball Savant numbers paint a very interesting picture. When Dalbec hits the ball, he hits it ridiculously hard. Here's a visual representation of the data.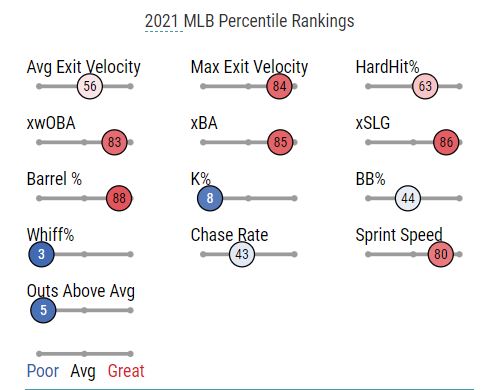 Let's try to simplify this as much as we can:
— Dalbec is better than league average in average exit velocity and hard-hit percentage. When he hits the ball, he hits it hard.
— That's in large part because of the barrel percentage. Dalbec is elite in that regard, as evidenced by his 88th percentile ranking in barrel percentage. When he makes contact, it's good contact — at a rate that surpasses just about every other qualified batter.
— His expected batting average (xBA) and expected slugging percentage (xSLG) are also at the highest end of the spectrum. His xBA is .304, roughly 60 points better than his actual batting average. His .551 xSLG is 200 points higher than his slugging percentage so far.
— But again, it's the swing and miss. Only six players in all of baseball have a higher swing-and-miss rate than Dalbec.
But here's another interesting nugget to chew on. Dalbec's xBA and xSLG are in a different universe compared to the players swinging and missing more than him.
| | | | |
| --- | --- | --- | --- |
| Player | Whiff rate | xBA | xSLG |
| Javier Baez | 49.4% | .213 | .476 |
| Keston Hiura | 46.1% | .192 | .339 |
| Akil Baddoo | 45.8% | .238 | .571 |
| Dom Nunez | 44.6% | .221 | .475 |
| Joey Gallo | 44.6% | .200 | .283 |
| Miguel Sano | 43.9% | .143 | .259 |
| Bobby Dalbec | 40.8% | .304 | .577 |
What's even more confusing is that 41 percent whiff rate is down from 46 percent a year ago, and his strikeout rate (one every three plate appearances) is down.
How Dalbec goes about fixing that is also kind of odd. It's not a pitch-selection issue. Dalbec actually is swinging at more pitches inside the strike zone than he did last season and he's chasing fewer pitches outside the zone than in 2020. The problem, though, is his contact rate on swings inside the zone (61 percent) is considerably lower than his debut season (69 percent).
That doesn't even seem possible, especially for someone like Dalbec, whose swing is actually good — it just doesn't always, you know, hit the ball.
The hope if you're the Red Sox, and the numbers seem to support it, is this is just all random. It's also slightly unlucky, especially when you see him do something like this and "only" get a double out of it.
That ball, like many off Dalbec's bat, was hammered. Assuming he starts making even a little more contact, gets a little bit luckier and maybe starts hitting in slightly better weather, there's plenty of reason to believe Dalbec is about to go off at the plate.