Don't expect Bill Belichick to show sympathy for any Patriots players who get flagged for taunting penalties.
Week 2 in the NFL saw multiple taunting penalties that were widely considered bogus by players, fans and analysts — nearly everyone, really. You can click here to watch some of the more controversial calls.
During his weekly appearance on WEEI's "Greg Hill Show", Belichick was asked for his thoughts on the uptick in taunting flags.
"In general, I don't really think there's a place for taunting in the game," Belichick said Monday morning. "I think that's poor sportsmanship, and it leads to other things. It leads to retaliation. And then, where do you draw the line? I think the whole idea of the rule is to nip it in the bud and not let it get started. And I'm in favor of that.
"I think that we should go out there and compete and try to play good football and win the game on the field. I don't think it's about taunting and poor sportsmanship, that's not really my idea of what good football is."
That's a perfectly fine and reasonable take, so long as Belichick maintains that perspective if/when one of his players gets called for an iffy taunting penalty in a big spot. However, considering New England's track record in this area, it's fair to assume that Belichick makes avoiding taunting penalties a point of emphasis with his players.
From the start of the 2009 campaign through Week 2 of this season, New England only has committed four taunting penalties: one in 2009 (Brandon Meriweather); one in 2014 (Rob Gronkowski); one in 2015 (Malcolm Butler); and one in 2016 (Gronkowski again).
Over that span, only the New York Giants and the Atlanta Falcons committed fewer taunting penalties than the Patriots, with two and one, respectively. The Seattle Seahawks top the list with 12.
The Patriots, Giants, Falcons, San Francisco 49ers and Miami Dolphins are the only teams who haven't been flagged for taunting since the start of the 2017 season. Referees barely enforced taunting before the 2013 campaign.
Here's a detailed breakdown of NFL taunting penalties since 2009: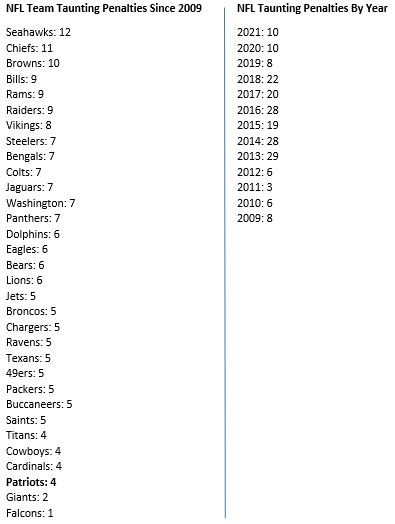 (We dug up these numbers using NFLPenalties.com, which only goes back to 2009 with its penalty data.)
In fairness, Gronkowski in 2017 probably should've picked up his third taunting penalty in three seasons, giving the Patriots five since 2009. His treatment of then-Pittsburgh Steelers safety Sean Davis after a superhuman-drive-capping two-point conversion easily could've drawn a flag.
Regardless, Belichick and the Patriots clearly practice what they preach. That they have had the same head coach, and his culture of accountability, over the past two decades obviously contributes to the Patriots' regularly ranking among the NFL's least-penalized teams.
All that said, some of the penalties from Sunday's games were total jokes, especially during a time when players are allowed to run to end zones and take team selfies after big plays. The NFL probably needs to reassess its approach to unsportsmanlike conduct penalties (for seemingly the millionth time) and, finally, reach a common-sense middle ground.
Either way, expect Belichick to continue his no-nonsense approach toward taunting, and for Patriots players to heed his warning — or else.