There are many questions facing the New England Patriots defense, most of them pessimistic — and fair.
Can they stop the run? Are the young, inexperienced linebackers ready to assume larger roles? Who other than Matthew Judon and Christian Barmore will rush the quarterback? Can Judon avoid another late-season collapse? Who the heck is going to play outside cornerback?
But here's another one: What if Kyle Dugger turns into one of the best safeties in the NFL?
Many eyes rolled when Bill Belichick used a 2020 second-round pick (his first in that draft) on Dugger, a freakishly athletic safety out of Division II Lenoire-Rhyne. But Dugger impressed in his rookie campaign, racking up 64 tackles while playing in 58% of New England's defensive snaps across 14 games. Though Dugger's impact might've waned as the season progressed, his usage steadily increased, indicating the Patriots' confidence in his ability to handle a notoriously complex scheme. He finished 2020 as Pro Football Focus' 49th-ranked safety, with his elite speed, physicality and instincts indicating a potential leap in Year 2.
And he largely delivered on the promise.
Dugger, playing in 77% of defensive snaps across 15 games, tied for second on the Patriots in both tackles (92) and interceptions (four). He also recovered one fumble, recorded five tackles for a loss and registered two quarterback hits. He finished 2021 as PFF's 31st-ranked safety. Perhaps most importantly, Dugger made significant strides in pass coverage, mostly reversing a rookie-season trend of opposing offenses targeting him with large, athletic tight ends. He also demonstrated an ability to play all over the field, including in the box as a linebacker, the kind of versatility that has made safeties such as Patrick Chung and Adrian Phillips so successful in the Patriots defense.
Check out Dugger's snaps by position, per PFF: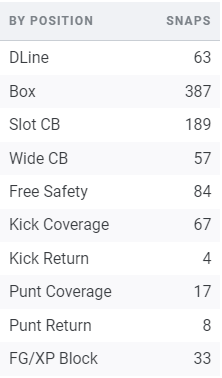 That versatility, along with Dugger's approach to the game, is part of why his teammates believe the 26-year-old is on the cusp of stardom.
"I love Dug," Devin McCourty said last Thursday after the Patriots canceled their final minicamp practice. "The way he's able to not care about what people are saying about him, what he's done in the past — being a D-II player — he doesn't care about any of that. Dug shows up, can do everything, can play in the deep part of the field, can cover.
"Obviously, if you watched any of our games, you know he can knock your head off. I just love watching him grow. I think sky's the limit for him."
McCourty also believes that Dugger, a quieter guy who doesn't have Twitter and barely is active on Instagram, has the traits necessary to become a leader in New England's locker room.
"He works so hard and he has that mentality that young players don't always have nowadays," McCourty said. "He doesn't really care where you rank him and all that, he just wants to win.
"He wants to do the right things on the field, and I think that's the recipe not only to be a good player — especially in this system to be one of the better safeties — but also to be the leader of this team and of the defense going forward. Watching him develop and doing those things has been fun, and I can't wait to see how he continues to develop in the future."
Perhaps more so than last offseason, Dugger is embracing the challenge of taking on a larger leadership role.
"Really, just the mental part," Dugger said last Tuesday about his recent areas of growth. "Really start to embrace the vocal part and communication, trying to focus on the importance of being a vocal leader. … That's been the biggest mindset."
Dugger is by no means a finished product, and he has a long way to go before reaching his uncommonly high ceiling. There still were times last season when it looked as if Dugger was holding back, unsure of whether to trust his instincts and go for a potentially game-changing play. Striking that balance of letting the game come to him and going and taking it for himself occasionally eluded him over his first two seasons.
But when he puts it all together and lets it fly, Dugger can wreak havoc on opposing quarterbacks.
Similarly, Dugger is at his best when he goes full-bully.
Here's an example of him doing just that:
… And here's the opposite:
During a recent appearance on ex-Patriot Chris Long's podcast, outside linebackers coach Steve Belichick identified Dugger as someone who is underrated on a national scale. His teammates and rivals have seen the light, but fans and pundits might still be in the dark.
"I think Chung is underrated," Belichick said. "Guys like (Kyle) Van Noy. Guys like Dugger and Adrian Phillips last year."
Don't be surprised if Dugger, arguably a better and more versatile player than the significantly more-hyped Jamal Adams, forces his way into the national conversation by the end of this season and starts being talked about as one of the NFL's top safeties. He's that good.