Gracing the right-field façade at Fenway Park are the three greatest left-handed hitters in Boston Red Sox history, an incomparable Hall of Fame trio who only need to be identified by their nicknames: the Splendid Splinter, Yaz and Big Papi.
Yet one often-forgotten slugger of the past accomplished some things Ted Williams, Carl Yastrzemski and David Ortiz, respectively, never did — and, for a generation of Red Sox fans, is just as identifiable by his singular nickname.
Mo Vaughn, the "Hit Dog," was as feared in his prime as any other legendary Red Sox masher.
While Vaughn's list of achievements isn't as lengthy, at his peak he was as complete a package as there was at the plate. He combined power and average to define 1990s-era Red Sox superstardom in a way only Nomar Garciaparra approached among everyday players.

Vaughn collected three All-Star Game nods and captured the 1995 American League MVP Award in a controversial election over Cleveland Indians left fielder Albert Belle, but a deeper look at the numbers suggests Vaughn might be underrated, if anything, in the context of history. Although Garciaparra won two batting titles and was the darling of an era that still highly valued batting average, Vaughn posted a higher OPS+ over a similar number of years in Boston (eight for Vaughn, nine for Garciaparra).
And then there's this: In Red Sox history, only seven players have bested 200 hits and 25 home runs in a season while batting at least .300, and of those, only two players have done so in multiple seasons.
The list? Jim Rice and Mo Vaughn.
That's it. Not Williams. Not Yastrzemski. Not Ortiz, Garciaparra, Manny Ramirez, Jimmie Foxx or Mookie Betts.
Rice and Vaughn are the only two.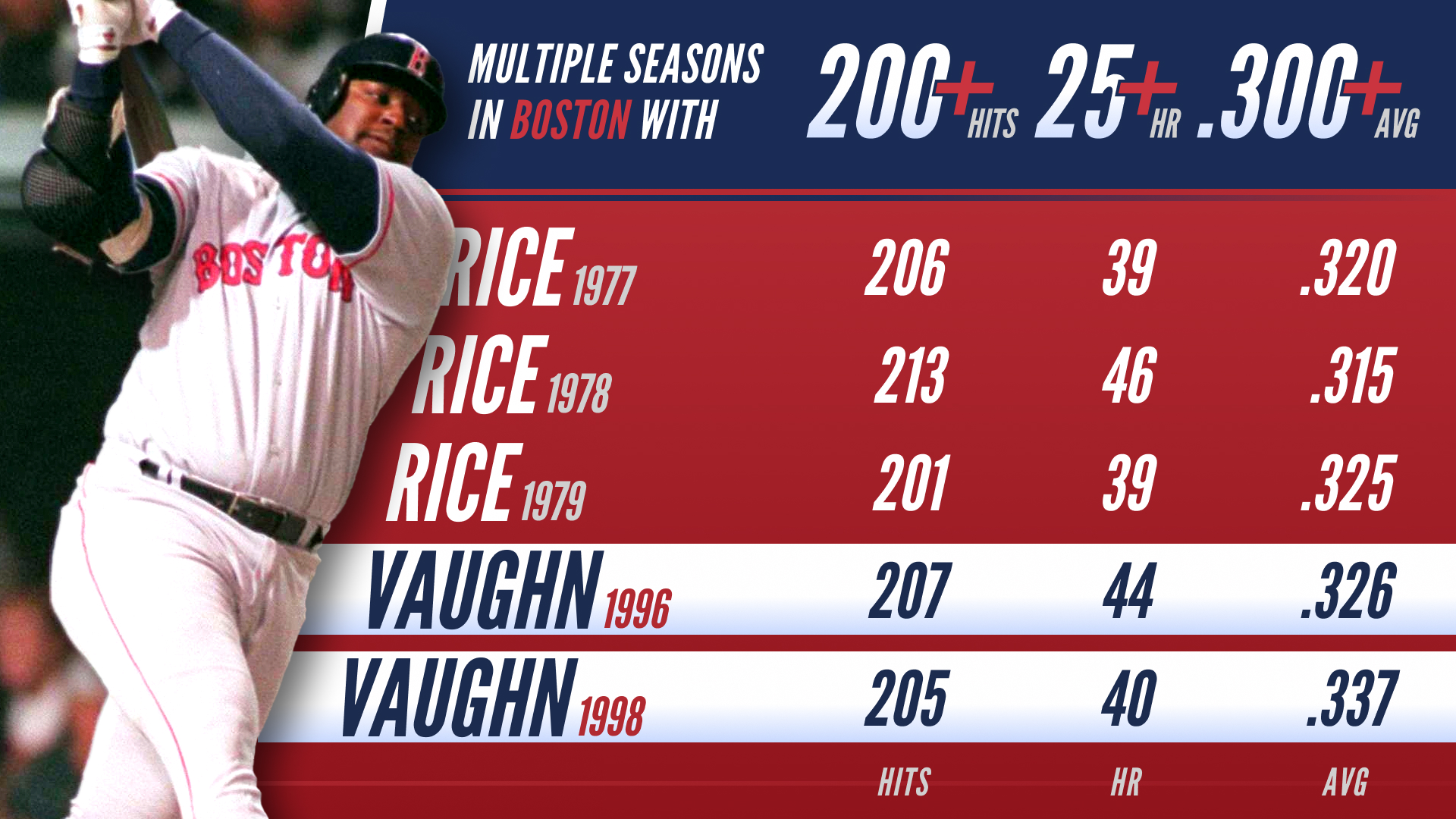 A quirk? Sure. Williams probably would have had several such seasons under his belt, had he not lost multiple years to military service, although he walked so frequently that reaching 200 hits was a challenge. Maybe Garciaparra would have matched it, given better health, though the best he ever got was 198 hits in 156 games, whereas Vaughn compiled 205 hits in 154 games in 1998.
Even better, the Connecticut-raised Vaughn's New England-New York hybrid accent made him sound like one of us. In the mid- to late '90s, Jerry Remy was in the booth and Vaughn was in the batter's box, both dropping their R's. What could be more perfect for a Boston fan?
Had Vaughn finished his career with Boston, or at least had more success in his post-Red Sox life, perhaps he'd be remembered more adequately. He battled through ailments for two years as a marginally above-average first baseman after signing a big deal with the Anaheim Angels before the 1999 season, then became a contractual albatross for the early-2000s New York Mets. Due to his body type, even those who were diehard Red Sox fans at the time recall him as a lumbering slugger, forgetting how he annually batted comfortably above .300 and even stole 11 bases in 1995. When Ramirez was signed as a free agent in 2000, the motivation was partly to fill the hole in the lineup left by Vaughn's departure.
Today, it's not uncommon to overhear older Millennial fans at Fenway look up and mistakenly assume the No. 42 hanging with the other retired numbers is up there for Vaughn, rather than Jackie Robinson, for whom No. 42 was retired across MLB in 1997. Considering Vaughn wore that number to honor the man who broke baseball's color barrier (and was the last Red Sox player to don those digits), Vaughn probably would consider the confusion an honor in itself — to be overshadowed only by the all-time greats, just as he was on the field.