FOXBORO, Mass. — This time last year, there was little doubt that Mac Jones would be the Patriots' starting quarterback for at least the following two seasons.
Now? We have no idea.
Jones' disappointing sophomore season continued last Sunday with perhaps his worst game yet as a pro. Yeah, the numbers were bad, but it's the way Jones played against the Raiders that was especially concerning.
He missed multiple open receivers, including some in huge moments. He made poor reads. His command of the offense was subpar. And, as has been the case too often in the second half, Jones got overly emotional and bordered on insubordinate. A particularly concerning goal-line sequence saw Jones wave off the field goal united, get animated with Bill Belichick after a timeout wiped out a touchdown and, finally, frantically snap the ball before his teammates were set, in doing so negating a score on a QB sneak.
Jones is justified in being upset with the current state of the Patriots. He and his teammate enjoyed a strong season in 2021, yet Belichick still tore up the offense and turned it over to Matt Paricia and Joe Judge. The offensive line nearly gets him killed every week. New England isn't well-coached and didn't put Jones in a position to succeed this season. That much has been obvious since training camp.
That we've reached this point isn't a surprise, which is a referendum on the job Belichick has done.
However, it's one thing to chew out the coaches and drop myriad F-bombs when you're both maintaining your composure and, ultimately, playing well. It's another thing to do those things when you're one of the top reasons your team loses, as Jones was Sunday afternoon in Las Vegas. He was both out of control and flat-out bad in that game, especially in the first half.
So, where does that leave us?
Belichick on Wednesday was asked to stand by Jones as the Patriots' starting quarterback, and he dodged the question in a manner reminiscent of his baffling vagueness during the Zappe Fever epidemic.
Does that mean Belichick is considering benching Jones in favor of Bailey Zappe? As always, reading too much into the head coach's comments is a bad idea. His motivations for doing what he does during press conferences remain inscrutable.
That said, it might not be a stretch to suggest Jones is playing for his job over the final three weeks. Team radio broadcaster Scott Zolak, a master in finding creative ways to engage in informed speculation, did just that Wednesday afternoon.
Support for Jones inside the Patriots locker room also could be waning, at least with one player. If you're someone who puts stock into Instagram likes, then Trent Brown's recent social media activity certainly makes it seem as if he's open to a quarterback change.
Not like such a decision would be made by Brown, and he himself might be playing elsewhere next season, but still.
Players during the summer raved about Jones, who eventually was voted a team captain. And we'd be lying if we said there are clear indicators of players turning on Jones aside from Brown's Instagram behavior. Plus, there are plenty of teammates who share Jones' anger and bewilderment over the stunning regression of New England's Matt Patricia-led offense — just ask Kendrick Bourne.
But it also is difficult to make a case for Jones being a good leader over the last month, and it's even harder to argue he's been an asset on the field. When you play as poorly as the Patriots have for much of the season, everyone gets some of the blame, including the young quarterback.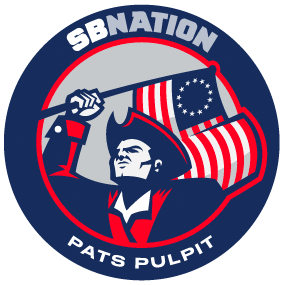 Again, you can explain away most of what's gone wrong with Jones this season.
The coaching has been awful. The offensive system was torn up and replaced during the spring despite it working just fine last season. The offensive line, also led by Matt Patricia, has been one big turnstile since the summer. Jones missed a month due to an injury, and while he was gone an entire region fell in love with his replacement. The 2021 Pro Bowler got booed off the field upon his return and received no flowers from his head coach afterward. And, somehow, things only have gotten worse since then.
At the end of the day, this might be a case of a player who's been screwed up by circumstances beyond his control and now is starting to crater under the immense pressure he puts on himself.
In big moments last season, Jones would calm himself down with breathing exercises before delivering on the field. This season, his wires cross, he cusses out the coaches and then jumps offsides.
That kind of change doesn't just happen overnight. And it hasn't happened because the job Jones did in 2021 was fool's gold. The Patriots coaching staff, led by Belichick, dragged Jones to this point and now his own underwhelming performance is beginning to mirror their own.
The question now: Can Jones be fixed?
It's a difficult question to answer. Young quarterbacks far more talented than Jones have been irreversibly ruined by similar circumstances. Baker Mayfield will tell you all about it.
The most prudent course of action probably would be removing Patricia as offensive play-caller, investing in the offensive line and finding another high-end pass-catcher for Jones to work with. But the Patriots also must ask themselves whether the damage they've done can be repaired.
If you total a brand-new car because you were texting behind the wheel, you usually have to acknowledge your mistakes, get rid of it and find a new one. That might not be a perfect analogy, but you get the idea.
Maybe Jones and the Patriots offense turn things around in the final three and win a game or two. Perhaps they find a way to make the playoffs.
But if things continue the way they're going, few jobs will be safe this offseason — including the quarterback's.