The New England Patriots have more than 20 players set to hit free agency when the NFL league year opens March 15. As that date approaches, we're taking a closer look at each one. Next up: offensive lineman Isaiah Wynn.
Isaiah Wynn went from being a first-rounder in 2018 to one of the more disappointing New England Patriots draft picks in the Bill Belichick era — and not just because of on-field performance.
Drafted as a left tackle despite some wondering whether he was better suited for guard, Wynn missed his entire rookie season due to an Achilles injury. He then missed six games in 2020 while playing at a relatively average level. Wynn got slightly back on track the next season, missing only one game and offering solid play at left tackle.
But this season was a complete disaster for the Georgia product, who was playing in a contract year.
After yet again sitting out voluntary OTAs, Wynn showed up for mandatory minicamp and promptly was moved over to right tackle, with Trent Brown moving over to the left. The rest of Wynn's summer was filled with speculation, trade rumors and combative exchanges with reporters. And things got even worse once the regular season started.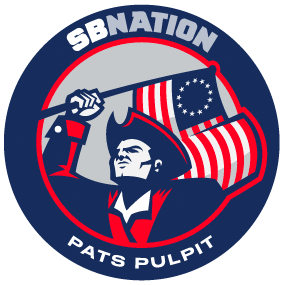 The first two months saw the 27-year-old rank among the league leaders in penalties, give up an alarming amount of quarterback pressures and get benched on multiple occasions. Wynn again was the subject of trade rumors before the November deadline, leading to an awkward and heated exchange with a reporter in the locker room. After playing in a limited role against the New York Jets in Week 11, Wynn saw the rest of his season wiped out by various injuries.
So, it's really hard to envision the Patriots re-signing Wynn this offseason. But is there an argument to be made for New England giving him another chance under a retooled offensive coaching staff led by Bill O'Brien?
Here are cases for and against the Patriots signing Wynn to a new contract:
CASE FOR
We're gonna try our best here.
The Patriots must improve at offensive tackle this offseason. It's non-negotiable. At the very least, they must add one franchise tackle. But, depending on how they feel about Trent Brown, who has one year let on his contract, they might need to add a second.
However, replacing both tackle spots is easier said than done. There's something to be said for having at least one tackle on the roster who knows the system and understand what it takes to play in New England. Perhaps the Patriots instead move on from Brown and re-sign Wynn.
New England also could get weird and shift Mike Onwenu out to right tackle, a position he's excelled at in the past, and try Wynn at right guard. He has the athleticism and talent to play guard in a run-heavy offense, and played some left guard this season while filling in for rookie Cole Strange.
Lastly, hear us out: Wynn isn't that bad. He's enjoyed stretches of good football with the Patriots and still is young. There certainly are worse offensive tackles in the NFL. Maybe he, like many players in this season's offense, just didn't get the coaching he needed.
CASE AGAINST
At this point, it probably is best for Wynn and the Patriots to go their separate ways.
In addition to his underwhelming performance, Wynn's work ethic and love of football can be questioned. After having his fifth-year option picked up two years ago, he skipped OTAs in back-to-back offseasons. Yes, those sessions are voluntary, but the reality is that coaches want players to be there, especially those who have much to prove and have battled strength and conditioning issues. While it might seem unfair, there's a big difference between Matthew Judon skipping OTAs, as he did last offseason, and Wynn, who was entering a make-or-break fifth campaign.
For many reasons, Wynn simply isn't a good fit for a franchise that both needs to fix its offensive line issues and restore a winning, drama-free culture.
More Patriots free agent profiles: Jakobi Meyers | Damien Harris | Nelson Agholor | Jonathan Jones