It's not happening, Patriots fans. Give up the dream.
Tom Brady is not returning to New England this offseason. What would be the most incredible reunion in sports history is nothing but pure fantasy.
We get it. We really do. The Athletic's Jeff Howe opened the door for this speculation in late November when he confidently suggested Brady could return to the Patriots for his age-46 season. The same day, New England legend Matt Light co-signed the theory. And, in the ensuing weeks and months, sophomore quarterback Mac Jones played inconsistent football while the Patriots limped to an 8-9 record while missing the playoffs. After the season ended, Bill Belichick offered a wishy-washy commitment to Jones before reports of him and some of his coaches being upset with the 24-year-old popped up days later.
So, it makes sense that some fans — especially those who propped up Bailey Zappe throughout the season — want to wave a magic wand and jettison Jones, sign Brady, replace Matt Patricia with Bill O'Brien and trade for DeAndre Hopkins, or something. Anything to ensure New England reclaims its rightful place atop the NFL mountain.
However, as known Brady insider Seth Wickersham said in early December, none of this ever made any sense.
First of all, we still don't know whether Brady will play next season. It's hard to envision Monday night's playoff loss to the Dallas Cowboys being Brady's last game, but ESPN broadcasters Joe Buck and Troy Aikman indicated the future Hall of Famer really doesn't know what he's going to do. Yes, Brady's postgame news conference sounded like a goodbye to the Tampa Bay Buccaneers, but he might've been saying bye to the NFL, too. We just don't know.
But let's say Brady does continue playing. Thus far, five teams have been reported as potential suitors: the Las Vegas Raiders, New York Jets, Tennessee Titans, Miami Dolphins and San Francisco 49ers. The Raiders seemingly are the leaders in the clubhouse, with a potential reunion between Brady and Vegas head coach Josh McDaniels making too much sense. (By the way, the Patriots will visit the Raiders next season.)
Since Howe wrote his column, not a single credible reporter has connected Brady to New England. Zero. Not so much as a peep. Reporters with little credibility haven't taken the leap, either. As of Tuesday afternoon, there were zero reasons to believe that Brady could make a Foxboro return.
And it's not hard to figure out why.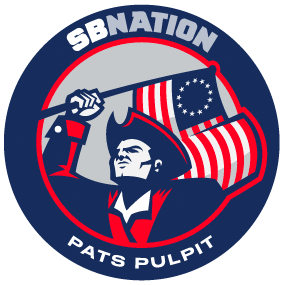 If Belichick didn't want to commit top dollar to Brady when he was set to turn 43 years old, why would he shift course with Brady set to hit 46? He was so ready to move on from Brady that he opted for Cam Newton in 2020.
If Belichick is going to throw away the benefits of Jones' rookie contract, he's going to do it for a cheap veteran on a prove-it deal — Jimmy Garoppolo, anyone? — or a more long-term fix, like Lamar Jackson. Both of those outcomes feel highly unlikely, but they're not nearly as far-fetched as a Brady reunion.
It's not really about the money, though. Make no mistake: Belichick cares a lot about his sans-Brady reputation. The Patriots are 25-26 since Brady left — Belichick's overall record with other quarterbacks is even worse — and crawling back to Brady with his franchise mired in mediocrity would be an awful look for a head coach who wants to keep his legacy intact. The "Belichick can't win without Brady" narrative would be irreversible.
As for Brady, all reports indicate he was over the Belichick experience years before he even left. Also worried about his legacy, Brady proved his point over the last three years: He doesn't need Belichick to win a Super Bowl. That much became obvious in 2020 when Brady led the Bucs to a Super Bowl title. He stands to gain nothing by heading back to New England for a storybook ending. Hell, he didn't even mention the Patriots in his "retirement" post last year.
If you want to dust off your tinfoil hat, you can argue that Brady could put one final nail in Belichick's proverbial coffin by rejoining New England and adding a seventh Lombardi Trophy to One Patriot Place. That would be a truly insidious way to end the Brady-vs.-Belichick debate, and it's not a stretch to think that the greatest competitor in American sports history is capable of such pettiness.
… But Belichick would have to sign up for it, and that's not happening.
"Hey, what if Robert Kraft forces Bill to do it?!? Brady still loves the Krafts! And the Krafts probably wouldn't care if Belichick left anyway!"
In a world in which the Patriots sent out the statement we saw last week, there might be a non-zero chance of such an outcome. But 2% still isn't a bet you should take.
At the end of the day, the most likely (and best) offseason play for the Patriots is to fix the offensive coaching staff, build around Jones and see what the 2021 first-round pick does in his pivotal third season. The 2023 season should offer a referendum on Jones' potential as an NFL quarterback, for better or for worse.
Maybe Belichick and the Patriots don't want to risk another forgettable campaign in Foxboro. You can't rule out the possibility of them upgrading at quarterback in an attempt to accelerate the franchise's return to relevance.
But that upgrade would not come in the form of a Brady reunion, no matter how badly Patriots fans want it to happen.