Baseball will largely look the same in 2023. The same pillars of the game that we have known for 150 years remain: It's still three outs per team per inning, nine innings per game and the team that touches home plate the most wins the ballgame.
But Major League Baseball is hoping three rule changes can improve the product and how it is received by fans after decades of new-age strategy removing some key tenants from the sport.
Ironically, Theo Epstein — a man who built his own legend on finding ways to exploit baseball's longstanding rules as a team-builder — is essentially the face of this MLB initiative. The league hired the former Boston Red Sox and Chicago Cubs executive as a consultant for on-field matters.
"Most of these trends have been driven by modernization, by data and by front-office optimizations," Epstein admitted in September when the league announced its new rules. "The game has evolved in a way nobody would have chosen if we were sitting down 25 years ago to chart a path toward the best version of baseball."
Epstein and MLB have spent the last few months telling anyone who will listen that they are listening to the fans through "exhaustive" outreach. The message they received from their consumers was simple: Games are too long, and there's not enough action. As Epstein has said multiple times, the league is trying to give fans more of what they like and less of what they don't like.
We're actually going to restore the game to the way it was traditionally played throughout baseball history.

Theo Epstein
The evidence is hard to ignore. Games are longer, yet offense is down. MLB games averaged more than 3 hours and 7 minutes in 2022, part of an upward trend that started 50 years ago and accelerated in the last 15 years. Batting average is as low as it has been since 1968, the "Year of the Pitcher," highlighted by Bob Gibson's 1.12 ERA that forced the league to lower the mound. The strikeout rate has exploded to 22.3%, up from 16.4% in 2004, with games sometimes going four minutes in between balls in play. And the stolen base is an endangered species.
So, with Epstein helping lead the charge, MLB is set to debut three rule changes in 2023 it hopes will not only get the game back to an average of 2 hours and 30 minutes per contest but also give fans more of the plays they like the most.
Here are those changes and how they will impact the sport moving forward.
BIGGER BASES
The actual bases are bigger in 2023. The standard 15-inch square bases are out, replaced by bags that are 18 inches square.
MLB hopes this will do two things. The first is player safety-inspired. Bigger bases theoretically give base-runners more room to navigate, hopefully eliminating not only collisions but jammed fingers and pulled muscles due to acrobatic maneuvering on bang-bang plays.
The other, big-picture hope is that more surface area for base runners to touch leads to more stolen-base attempts. There were just 1.35 stolen base attempts per game in 2022. In 1995, there were more than two per game.
"There was a play in the World Series, it was a bang-bang play at second and he got called out," Red Sox manager Alex Cora told reporters on the first day of spring training. "Probably with the new bases, he would have been safe, so that's going to be a change."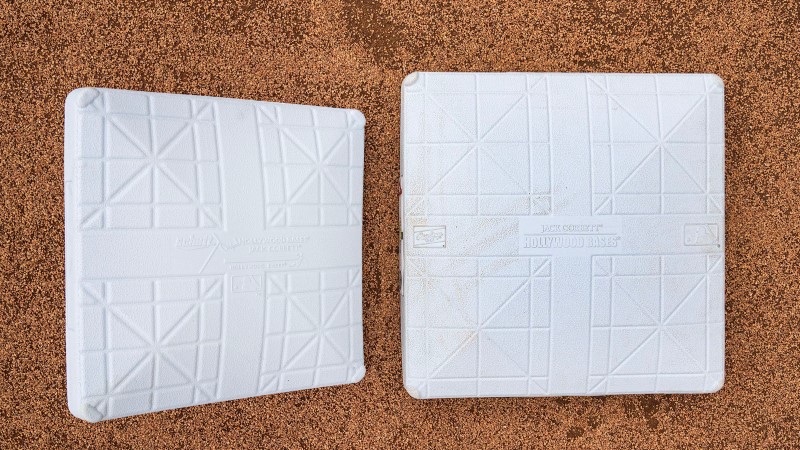 Like all of these changes, though, it's probably best to temper expectations of extreme change right away.
"Talking to the minor league coaches and everybody who used the rules last year, it's not all of a sudden we're going to steal 100 bags with the guy," Cora said. "The value of the out is still in play, and you (only) get 27, so you've gotta be smart, you've gotta be efficient."
PITCH TIMER
The pitch timer is the most impactful change. Not only will it change how players actually play the game (and thus is likely to be the biggest source of complaints), but it's the rule that gives baseball its best chance of getting back to games lasting 2 hours and 30 minutes.
Pitchers will have 15 seconds to deliver a pitch with no one on base. With runners on, he'll get 20 seconds. Some of the onus is on the batter, too, as they have to be in the box and alert to the pitcher with at least 8 seconds left on the clock. The umpires will be expected to enforce these guidelines in a way we haven't seen before.
This will present a new physical appearance at ballparks, too. There will be clocks behind the plate on both sides. Umpires will even have buzzers on their person (on their wrist, forearm, ankle, etc.) that will buzz when the pitch clock expires. Failure to comply from the pitcher or the hitter will result in a ball or a strike for violation.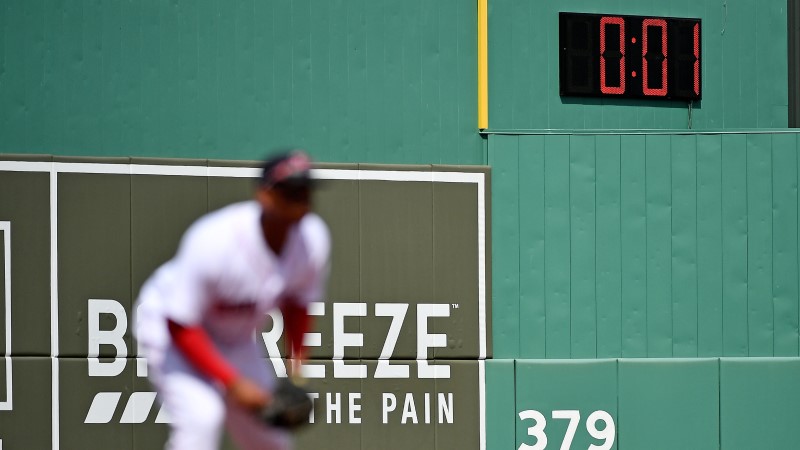 The intended impact is obvious. The league wants to pick up the pace. The timer helped reduce game length by an average of 25 minutes in the minor leagues in 2022.
But the impact will extend beyond the pace of play and game time. Pitchers are only allowed two "disengagements" per at-bat. That means they can't futz with the clock and try to control the running game by simply stepping off the rubber. So, if you've used up your two disengagements in an at-bat, base-runners know the pitchers can't do anything to limit the running game other than speed up their delivery to the plate.
In a way, that could promote improvement on two fronts. The obvious is that base-runners have better opportunities to attempt steals. In the minor leagues, where the pitch clock was used in 2022, stolen-base attempts increased roughly 25% compared to 2019, and the success rate also jumped almost 10%. Also, if a pitcher attempts to control the running game by using a slide step to speed up their delivery, that typically reduces velocity which could lead to even more contact.
SHIFTS
Finally, the infield shift is being greatly restricted. The basic guideline are that teams need at least four players within the infield boundary when the pitch is thrown. Essentially, four players need to have both feet on the infield dirt. Furthermore, there must be two infielders on each side of second base, essentially eliminating the righty/lefty shift on either side.
This rule change certainly sounds like a big one, but it might be the one tweak whose impact is toughest to predict. The assumption is hits are going to just start falling in, especially for left-handed batters. In some cases, that probably will be true. Take Carlos Santana for example. No one was shifted more from the left side in 2022 than Santana, who saw the shift in 98.1% of his plate appearances. As you can see, teams often put an infielder in short right field when he was at the plate.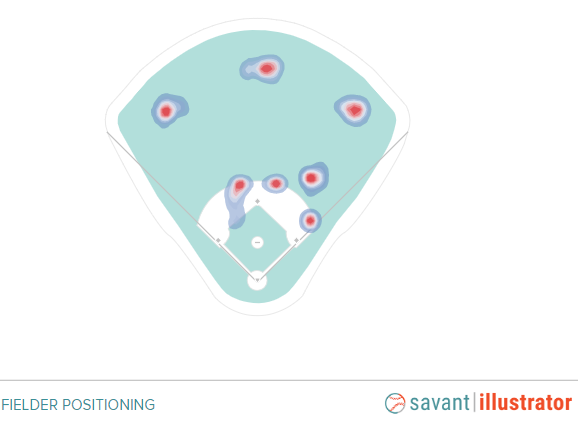 In 2023, teams won't be able to position infielders in the outfield like that. In theory, those top-spin line drives that turn into 4-3 groundouts could become base hits again.
That being said, teams can still shift pretty heavily without moving an infielder to the outfield.
"I think teams are still going to be smart enough to use guys in certain spots," Cora said. "You might see second basemen way in the hole or the first baseman off the bag. So, you get creative."
One other thing to consider here, especially with a team like the Red Sox playing at Fenway Park: How do you use your outfielders? Could we see teams move their outfielders in a way that makes up for the lost ability to put infielders in shallow right? It's something to consider.
MLB, though, has a clear outcome it's hoping to see.
"I think fans will cherish the moments absent the extreme defensive shifts when games are decided not by whether their team's infield is positioned by the perfect algorithm," Epstein said, "but by whether their team's second baseman can range to make an athletic diving play with everything on the line."
Ultimately, these changes require buy-in from all parties involved. If that is achieved, these changes could be monumental in the history of baseball timeline and could go a long way in improving the on-field product for years to come.