Exhale, NFL: Tom Brady has retired. Again. For real this time.
The greatest quarterback to ever lace them up stepped away from the game Wednesday. Brady made the announcement, his second in as many years, on his social media accounts, saying it was "for good" this time.
It certainly feels real this time around. And if it is, the Canton countdown starts immediately. As we wait for that and what's next for TB12, here are a few quick thoughts about Brady's retirement and how it affects the football world.
— Brady's competitive nature is unrivaled by just about anyone in sports not named Michael Jordan. The same could be said for his success in the sport, too. But Brady, perhaps unsurprisingly, had become less and less relatable as the years went on. He was borderline weird with some of the off-field decisions he made and he communicated with the general public. That makes some sense, though. He's one of the most famous athletes in the world and he was married to the most famous supermodel in the world. Of course, he's not the same butt-chinned kid with the pizza under his arm, supposedly assuring Robert Kraft that drafting him was the best decision he'd ever make. But that entire evolution is what made Brady's raw, honest and to-the-point announcement Wednesday so endearing. It was authentic and honest. It didn't get sanitized after a trip through the public relations ringer. It was Tom Brady the competitor, not Tom Brady the celebrity. It would be nice to get more of that Brady in his post-playing days.
— We did all of this last year, but it's worth mentioning Brady's unparalleled accomplishments as a football player. They almost certainly will never be matched as long as the NFL exists. Instead of running them all down, this screenshot of Brady's Pro Football Reference page does the trick.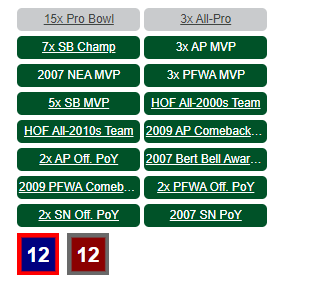 — It's kind of funny that Brady announced his decision on Feb. 1. The announcement comes on the 19th anniversary of his second Super Bowl victory and the eighth anniversary of his fourth Super Bowl win.
— In fact, Brady's "for good" announcement comes one year after his first "retirement." It would be great to get the honest truth from him on whether he wishes he had just done this last season and wouldn't have had to endure a frustrating 2022 campaign that ended with a whimper in the wild-card round.
— This certainly helps generate a little more buzz for "80 for Brady," huh?
— On that point, it would be an all-time heel move if this was somehow all a ploy to set up some Super Bowl commercial starring Brady. Given how that has worked for him in the past, it's a safe bet that's not the case.
— Tough break for Greg Olsen. The former tight end has found his groove in the No. 1 FOX booth. Brady signed a 10-year deal reportedly worth $375 million to essentially take over that role as soon as he's ready. The guess is Brady goes right into the booth next year, meaning Olsen's run as the No. 1 color commentator ends after just one season. His consolation prize, though, is he gets to do the Super Bowl next week.
— This move obviously sends shockwaves through the rest of the NFL, too, as we get set to embark on a fascinating offseason. Had Brady returned and was opened to playing elsewhere — ESPN's Jeff Darlington reported he might have actually preferred to stay in Tampa Bay — it would have been the biggest storyline of the NFL offseason. Going home to play for the San Francisco 49ers and contend for a Super Bowl with his boyhood team would have been a great story. Seeing him reunite with Josh McDaniels as a Raider in the loaded AFC West would have been juicy, too. Or, heaven forbid, could you imagine Brady on the Dolphins and Jets as a division rival of the Patriots? In the end, all we can do is imagine what it would have been like. That's a tough break for those teams, who now have to pick up the pieces at quarterback.