SEE THE
BRUINS

LIKE NEVER BEFORE

NESN's home game coverage of the Bruins is now available in 4K HDR! Experience a new level of detail and stunning clarity and vivid color come to life on your screen with participating TV providers: DIRECTV, fuboTV, and Verizon Fios. NESN's 4K HDR feed is also now available on NESN 360 with authenticating TV providers or a direct subscription.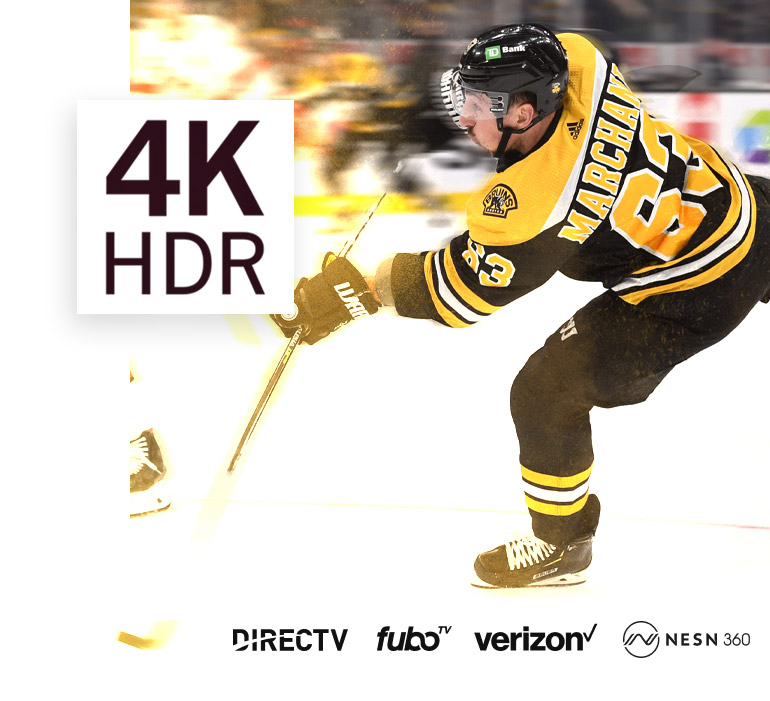 Where to Watch
.
The following providers can deliver NESN 4K HDR to your 4K TV. Visit their sites to learn more:
How to Watch
.
Let's make sure you have everything you need to watch in 4K HDR.
Ensure that your connected device supports 4K resolution playback. You can refer to the device's specifications or check with the manufacturer for compatibility details.
Access the display settings on your device and verify that it is set to output at 4K resolution. The location of the display settings may vary depending on the device. Ensure that the appropriate display resolution, such as 3840×2160 pixels, is selected.
If you're watching with DIRECTV, fuboTV, or Verizon Fios, make sure you have a 4K subscription in your TV package and a 4K streaming device. If you're using a device such as a Fire TV, Apple TV, or Google TV, make sure the version you have is 4K compatible at 60 frames per second.
HDCP 2.2 (High-bandwidth Digital Content Protection) is a copy-protection standard required for streaming 4K content. It ensures that your content is protected from unauthorized copying or distribution. Verify that both your device and any intermediary devices, such as HDMI cables or AV receivers, support HDCP 2.2.
You'll need an HDMI cable that supports 4K and HDMI 2.0 or higher. Older HDMI cables (HDMI 1.4 or below) may not be capable of transmitting 4K signals. Make sure the cable is securely connected to both your device and the display.
To stream our content in 4K, we recommend a reliable high-speed internet connection with a minimum bandwidth of 35 Mbps.
4K streaming of our app is available for all Red Sox and Bruins home games. To learn more please visit our FAQ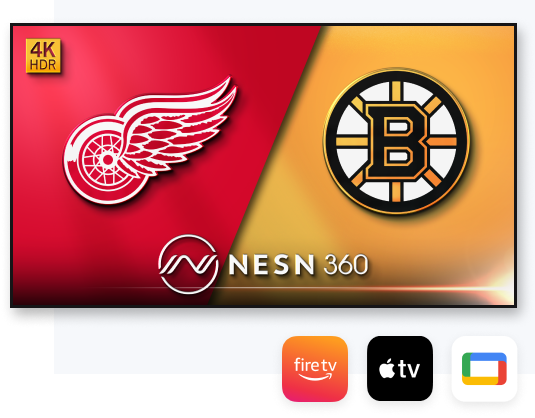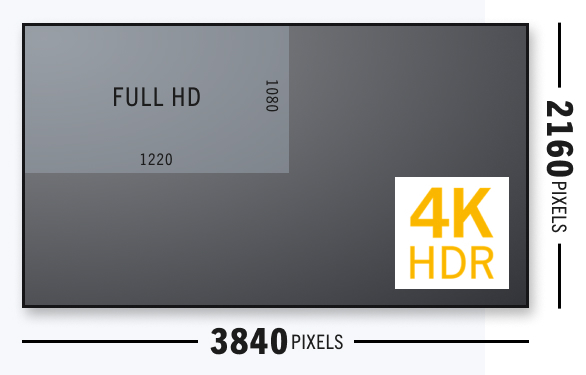 What is 4K HDR
?
4K HDR displays reveal an enriched, detailed viewing experience including more vibrant colors and clearer imagery. 4K resolution, as defined by TV manufacturers is 3840×2160 pixels or 2160p. For comparison, quality of 4K displays are approximately four times what is experienced on a current HD display (1080p).
HDR, or high dynamic range, increases the clarity of the lightest and darkest parts of the TV image. This makes the whites strikingly white and the blacks even darker, rather than appearing as a shade of grey.
When to Watch
.
This season, NESN Bruins home games and pre and postgame coverage will be broadcast in native 4K HDR. Download NESN's schedule to your favorite device to make sure you don't miss upcoming home games in 4K HDR!