The Detroit Tigers leaned on Nick Castellanos to be a middle-of-the-order bat after J.D. Martinez was gone. Could the Red Sox do the same?
Boston might be in the market for a slugger this winter, a decision that is especially dependent on what Martinez ultimately decides to do himself. Martinez can opt out of what would be the final year of a five-year contract, and The Athletic's Ken Rosenthal last week said he expects the 34-year-old to test the open market.
If he does that, he'll join his former Tigers teammate. Castellanos on Thursday opted out of his own contract with the Cincinnati Reds, electing free agency instead.
Castellanos joins a pretty loaded free agent class for hitters, with All-Stars like Freddie Freeman, Carlos Correa and Kris Bryant all hitting the market. If Martinez joins that list, would it make sense for Boston to make a run at Castellanos, a younger player with a similar offensive profile?
The short, inconclusive answer is yes — and no.
The reasons to sign a player like Castellanos are obvious. He's really, really good, especially with a bat in his hand. After enduring a miserable 2020, he bounced back with the best season of his career in 2021. Castellanos set career-bests in batting average (.309), OPS (.939) and home runs (34). His 140 wRC+ ranked 13th among all qualified hitters in the sport, slotting between Joey Votto and Max Muncy.
If signed by the Red Sox — or any team, for that matter — he'd immediately slide right into the middle of the lineup, where he'd likely fall out of bed and hit 30 home runs.
His situation, however, is far from perfect for a lot of teams. Perhaps the biggest hurdle is the financial investment. He's opting out of the final two years of a four-year deal, leaving $34 million on the table. So, he's obviously looking for a raise up from that with more years attached. This probably is his final chance at a huge contract. One has to imagine $20 million per season as the baseline for Castellanos, who is represented by Scott Boras.
Further complicating the situation is a decision Cincinnati certainly will make. The Reds can and should extend Castellanos the $18.4 million qualifying offer. He'll reject it, of course, but by making the offer, the Reds ensure the team that signs the slugger would have to cough up a 2022 draft pick in order to do so. The Red Sox, who have committed to long-term stability, are likely reluctant to make that sort of investment — not just because of the money but the draft pick, too.
Castellanos also is an imperfect player. He's a below-average outfielder, and there's currently an obvious logjam in the Red Sox outfield. Castellanos mostly has played right field, and the Red Sox already have Hunter Renfroe, who looked adequate in his first season patrolling the expansive patch of Fenway Park grass.
Neither Renfroe nor Alex Verdugo is good enough to move to center field (likely bumping Kiké Hernández to second base) in order to add Castellanos to the outfield mix. They'd probably rake, yeah, but a lot of balls would hit the carpet with that trio getting the bulk of the defensive innings.
A team like the Red Sox almost certainly would sign Castellanos to be its designated hitter. That's a pricey investment in that scenario, but it obviously worked out with Martinez. Still, the money could be used to address other, more pressing areas of need while creating some sort of DH platoon with cheaper options who offer more positional versatility.
The Red Sox could do worse than Castellanos. He would complement the rest of the lineup nicely and likely would do some damage with a short left-field porch in Boston, as evidenced by this 2021 spray chart laid out over Fenway Park's dimensions — which doesn't include home runs.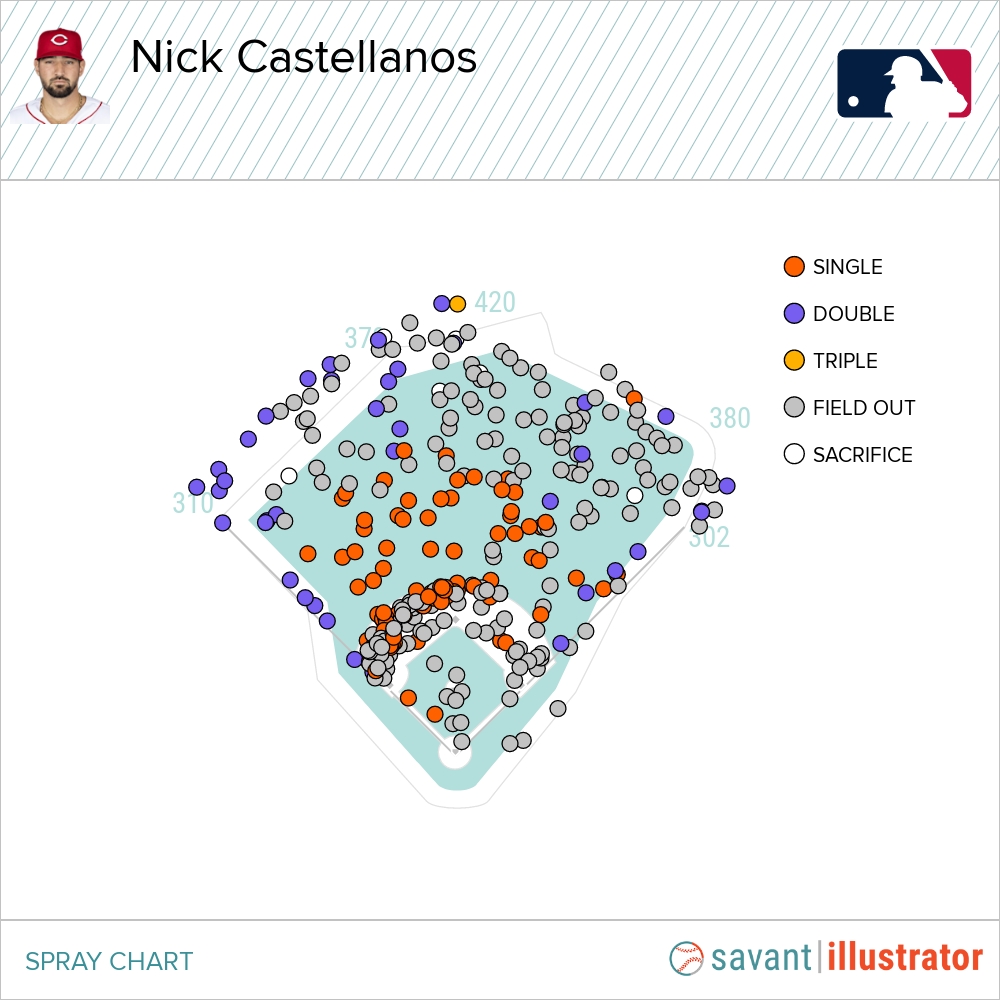 Whether he's the right for this team at this moment remains to be seen, as there are so many uncertainties in play — from Martinez's opt-out decision to the new collective bargaining agreement and everything else affected by those factors.