The 2021 PGA Championship is here, and we could be in for a wild weekend on the South Carolina shores.
The season's second major goes down this weekend at Kiawah Island Resort's Ocean Course, the site of the 2012 PGA Championship and 1991 Ryder Cup.
As always, a golf major provides ample betting opportunities, so let's get right into our 2021 PGA Championship betting preview:
DEFENDING CHAMPION: Collin Morikawa (13-under at TPC Harding Park)
THE COURSE — Ocean Course at Kiawah Island
Par: 72
Yardage: 7,876 (from the tips)
As mentioned, this is a return engagement for the PGA. Rory McIlroy, who won his most recent start, ran away with the 2012 PGA Championship. He shot 66 on Sunday, breezing to a comfortable eight-stroke victory.
Looking at the top of that leaderboard, there's an undeniable trend: European golfers had success at Kiawah. Counting McIlroy, seven of the top-10 finishers hailed from Europe, and it wasn't exactly a cast of superstars.
That Europeans would have some success makes sense. The course literally is on the ocean, and some have described the track as an "American links" layout. That's a pretty comfortable setting for the Euros.
They're also comfortable playing in the elements, and that's really the wild card of the entire tournament. Will the wind blow? If that breeze picks up off the water, it's going to wreak havoc on the field. Forecasts, especially on the ocean, can change quickly, but the early look for the weekend calls for some impressive gusts Thursday and Friday. The weekend, while better, won't be a picnic, either.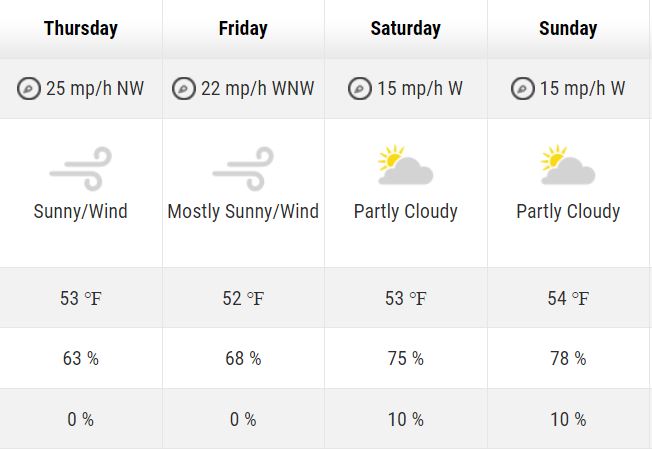 The other big storyline will be course length. From the very back, this will go as the longest course in major tournament history. There's water on six holes and natural sand spread all over the place. It's possible a long hitter wins this thing, but it's not a guarantee a bomber will lift the Wanamaker Trophy on Sunday. We likely can rule out the real short hitters, though.
So, what profile does this leave us? As is almost always the case, target players who are good off the tee, especially those with a workable combination of length and accuracy ? which, duh. Approach game also is huge, especially considering these greens are relatively small, and a lot of the greens are either surrounded by sound or water and/or sit up with the potential for shots to run off the green.
So if you're not accurate, you better be fantastic around the green.
THE FAVORITES
(Odds via FanDuel Sportsbook)
Rory McIlroy +1100
Jon Rahm +1500
Justin Thomas +1600
Dustin Johnson +1800
Jordan Spieth +1800
Bryson DeChambeau +2000
Viktor Hovland +2200
Collin Morikawa +3000
Daniel Berger +3000
Hideki Matsuyama +3300
Patrick Reed +3600
Tony Finau +4000
— McIlroy moved to the betting favorite after winning the Wells Fargo Championship two weeks ago.
— Johnson is back after missing last week's Byron Nelson with a supposed knee injury. He also was spotted doing back flips off a yacht recently, so who knows.
— Matsuyama will try to become the first player since Spieth to win the season's first two majors; Spieth won the Masters and the U.S. Open back in 2015 before the schedule was changed.
BETTING PICKS
Daniel Berger to win (30-1): There's a lot to like about Berger this week, especially if it gets windy. His around-the-green play hasn't been especially great this week, but the weather could neutralize that. If it starts to blow, perhaps Berger's low ball flight — he ranks 199th in average apex — allows him to manage the breeze (although McIlroy won here and has one of the highest ball flights on Tour). Berger did miss the cut at the Masters, but he has six finishes of 13th or better in his last nine starts, including a win at ? Pebble Beach. That's on the water, too, you know.
Gary Woodland top 10 (+950): Woodland's lone major win came at … Pebble Beach. The 2019 U.S. Open winner also is an interesting play here because of his ability to play in the wind. He ranks first in the field in strokes gained: approach and eighth in tee-to-green when the conditions are "Windy AF," per Fantasy National Golf's database. Big for what it's worth given the changing courses: Woodland has two top-10 finishes at the PGA in his last three starts. His tee-to-green game was dialed in two weeks ago at the Wells Fargo, too, where he finished fifth.
Paul Casey, top European (14-1): The models absolutely love Casey, in large part because of his approach game paired with an impressive around-the-green prowess. Putting might not be a huge factor this week, but Casey's occasional flat-stick funks make him a tough sell to win the whole thing. But he certainly could hang around, which gives him value as top Euro. He has four top-10s in his last seven starts and finished second at Harding Park a year ago. There's a ton of competition with the likes of McIlroy, Viktor Hovland and Jon Rahm, but we'll take the number on the crafty veteran.
Cameron Tringale to win (100-1): Gotta have a long shot, right? The model loves Tringale, who has been a wizard around the green recently. He's also fairly accurate off the tee with a workable approach game. Tringale tends to avoid the big numbers, ranking eighth in bogey avoidance and 14th in birdie-to-bogey ratio. If and when the weather acts up and everyone else goes to hell, he might be steady enough to hang around and have a chance.