We likely never will see another game like the one the Patriots and Falcons played in Super Bowl LI.
You know what happened: New England, facing a 28-3 deficit against Atlanta, stormed back and eventually earned a 34-28 overtime victory. Tom Brady won the game's Most Valuable Player award — James White probably should've — and he and Bill Belichick cemented their legacies as the greatest quarterback and head coach, respectively, in NFL history.
(You can click here to watch a 20-minute highlight video of the game.)
Here are the passing, rushing and receiving stats, via Pro Football Reference: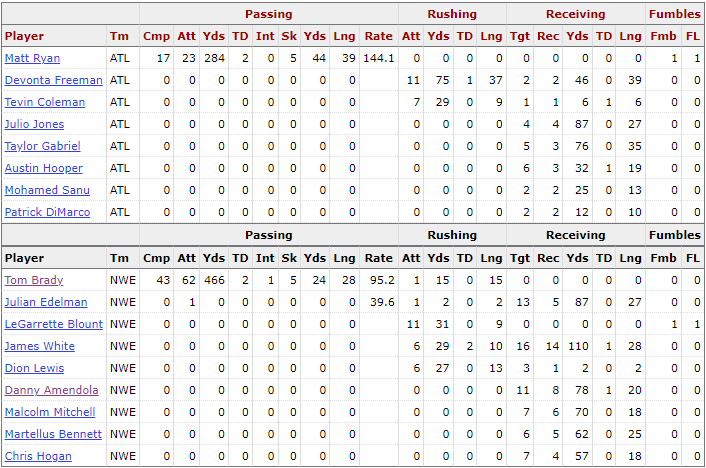 With the Patriots and the Falcons set to square off Thursday night for just the second time since that fateful night in Houston, let's look at how Super Bowl LI impacted both franchises.
The game didn't send the two teams in opposite directions; rather, it sent them in different directions.
The Patriots' road has been a fascinating one. They made it to Super Bowls the next two seasons — infamously losing one; remarkably winning the other — before a second-half slump in 2019 ended with a wild-card loss to the Tennessee Titans in Tom Brady's final game as a Patriot. New England bottomed out in 2020 (relatively, anyway) and now appears firmly back as a contender in the AFC, with a new franchise quarterback under center. The Patriots ascended further up the NFL mountain, descended into a rebuild and now might be nearing another peak.
Conversely, the Falcons have done a whole lot of nothing since surging to a 28-3 lead at NRG Stadium. Atlanta endured a Super Bowl hangover in 2017 but still managed to make the playoffs. It won in the wild-card round before bowing out in the divisional round with a loss to the Philadelphia Eagles, who, of course, beat the Patriots three weeks later. The Falcons haven't made the playoffs since, going 7-9 in 2018, 7-9 in 2019 and 4-12 last season. They enter Thursday's game with a 4-5 record. Dan Quinn was fired midway through last season, with Raheem Morris taking over as the interim head coach before Arthur Smith was hired during the offseason.
You could make the case that Super Bowl LI is directly responsible for both of those stories.
Multiple reports indicate Brady justifiably wanted a long-term contract extension after his heroics in the game. He didn't get it, and the snowball that led to his New England departure began rolling. It's fair to wonder how both Brady and the Patriots would've approached his Foxboro future had New England lost to Atlanta.
As for the Falcons, it's hard to figure out what went wrong after such a promising season in 2016. Perhaps they've hoped against hope that Matt Ryan, now 36 years old, could recapture his MVP form of that campaign and that a return to the Big Game only was a few roster tweaks away. Now, handcuffed in salary cap hell, Atlanta still has an aging, mediocre Ryan at quarterback with no heir in sight. The Falcons are in the NFL's purgatory, with the "What if?" from Super Bowl LI seemingly preventing them from ripping the proverbial Band-Aid.
If only then-offensive coordinator Kyle Shanahan ran the ball when the Falcons were at the Patriots' 23-yard line, leading by eight with under four minutes left.
Super Bowl LI is a fascinating case study, both for its improbable on-field finish and bizarre fallout.