Many Patriots fans maintain New England must add an elite receiver — DeAndre Hopkins, anyone? — this offseason.
DeVante Parker believes such a weapon already is on the roster.
GilletteNation, a Patriots fan account on Instagram, recently published a post in which it claimed that Parker showed enough in 2022 to prove he can be a true No. 1 wideout in New England's offense.
"I know people are clamoring for a top-tier wideout for Mac Jones, but I really do think Parker can be that guy," the account user wrote.
Parker showed up in the comments section, writing, "I am that guy" — along with a shrug emoji.
Take a look: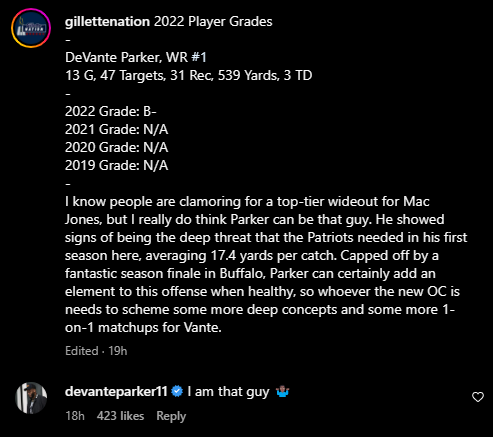 Although Parker might not be a legitimate upper-echelon wideout, such as Stefon Diggs or Davante Adams, he does have the ability to be the most dangerous weapon in the Patriots receiving corps.
In 2022, the 29-year-old caught 31 passes for 539 yards and three touchdowns. His prowess on 50-50 balls also came as advertised, with Parker delivering multiple long, contested catches during his first season in Foxboro.
But Parker's durability concerns also came as advertised. He missed one game due to a knee injury and three more due to a concussion, although the latter issue wasn't his fault. Still, Parker has struggled with staying on the field throughout his eight-year career, and as such probably can't be banked on as a game-changing force for the Patriots.
Parker has one year and $5.7 million remaining on his contract.