The Winter Classic was more than two weeks ago, and the Bruins have played a handful of games since then, including a very successful California road trip.
But when the story of the 2022-23 Bruins is completed, there's no doubt the Jan. 2 showdown with the Pittsburgh Penguins at Fenway Park will go down as a highlight. Obviously, given how dominant the first half of the season has transpired, the Black and Gold have far bigger highlights in mind, but it's still going to be a day they won't soon forget.
And we now have an even better idea of what happened that day and how it could ultimately shape the rest of the season. The Bruins' behind-the-scenes show, "Behind the B," recently aired a new episode on NESN providing some incredible Winter Classic content.
We gave it a watch and have some of the best tidbits below, but it's definitely worth a watch, either on NESN, NESN360 or on the Bruins' YouTube page.
Here's some of the best content from the Winter Classic episode.
— Among the many perks of being a professional athlete and playing in something like the Winter Classic: free stuff. That includes but is not limited to wearable sleeping back knapsacks, apparently.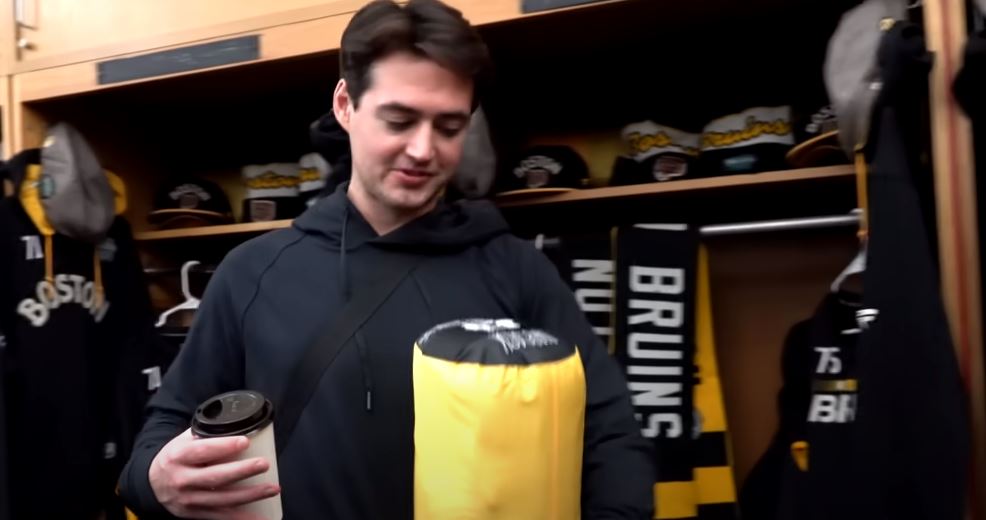 — Date Cliffy, nice to meet me. How do you like your eggs in the morning?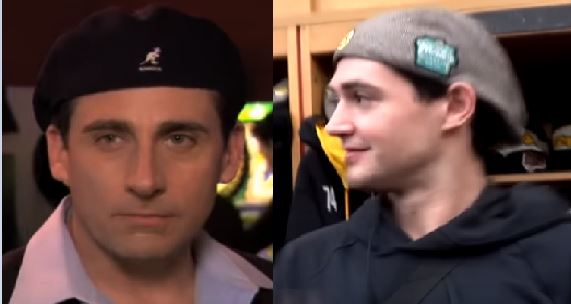 — There was a funny sequence between Linus Ullmark and Patrice Bergeron with the goalie asking the captain about how many outdoor games he has played. Bergeron lists off the five: Fenway in 2010, Foxboro, Notre Dame, Lake Tahoe and now Fenway again.
"That's what you get for playing Original 6, huh?" Ullmark quips in response.
— Head coach Jim Montgomery, starring as your dad on a family vacation.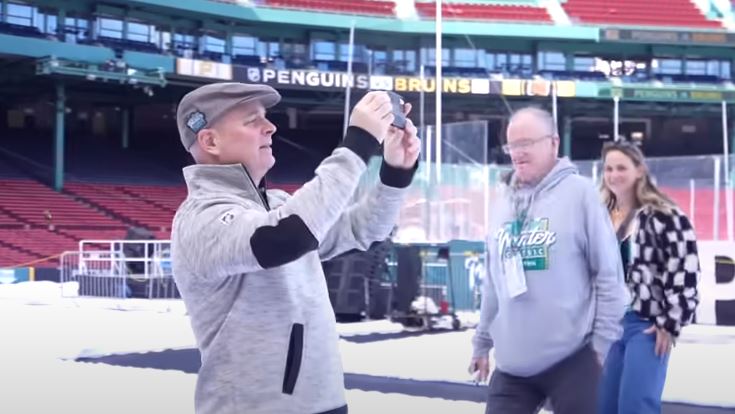 — Fashion icons David Pastrnak and Hampus Lindholm. Pastrnak's jacket, described by Pastrnak as "sick," is certainly a look. "Fashion by Pasta," as Lindholm remarks.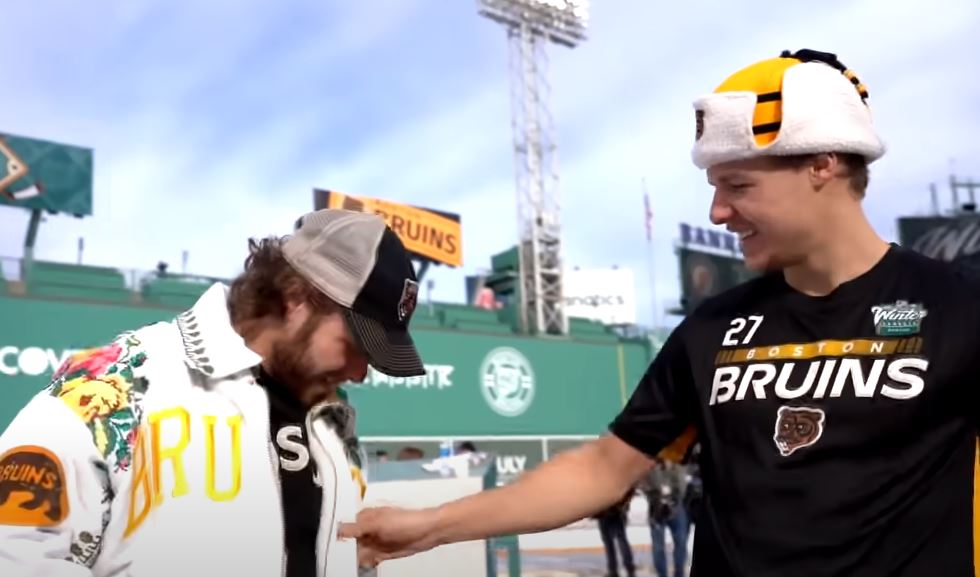 — Connor Clifton interacting with Brandon Carlo and Carlo's mom during the family skate — "Mrs. Carlo," as the ever-polite Clifton addresses her — is particularly endearing.
— The Bruins wearing the Red Sox uniforms got a lot of play, as it should have as a really cool gesture. To see them wearing them to the hotel lobby for a continental breakfast is objectively funny, though.
— Brandon Carlo's black eye really sold the old-school motif, too.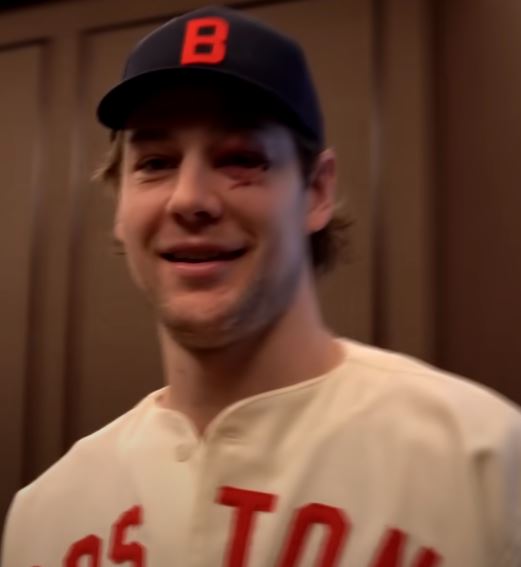 — The players buying in really sold the uniform thing, too. At one point, A.J. Greer asks a team staffer, "How's it look? It looks awesome, right?" Then, as he boards the team bus, Brad Marchand raves "These are (expletive) nasty."
— The greatest player of all time takes a moment to say hello to Wayne Gretzky.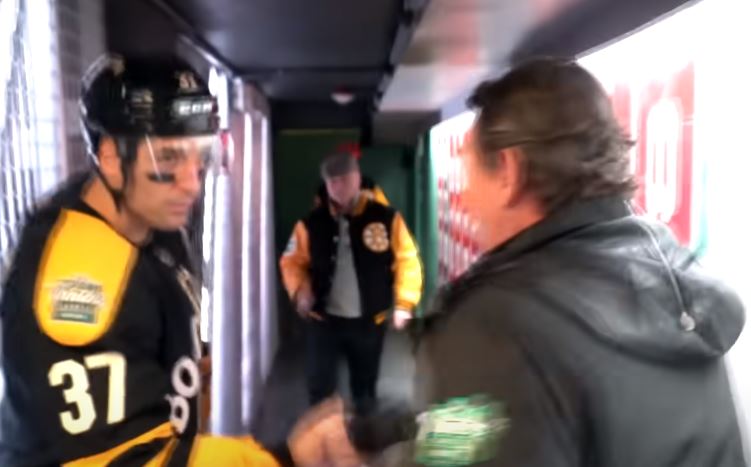 — Another pretty cool pregame moment came when referee Chris Rooney stopped by the Bruins' bench to exchange pleasantries. Jim Montgomery goes out of his way to congratulate Rooney, a Southie native, on the hometown assignment.
— As for the actual hockey game. Marchand was mic'd up. It's worth your time.
— As we all remember, the Penguins outplayed the Bruins through two periods before Boston stormed back. We also learned in the immediate aftermath of the game that veteran forward Nick Foligno was able to rally the troops with a speech during intermission.
"There are moments that I think you look back on and talking to (Bergeron) and the guys that have played, you only remember the ones you win," Foligno told reporters after the game. "So I think that was the talk. It's just, 'We just got to find a way to win this one. It's going to make it that much better.'"
The actual version of the speech is much better, and luckily, cameras were rolling. Here's a transcript of Foligno's speech.
We gotta know who we are here. We're gonna get it. We're the best team in the league. … Do you guys understand how we did that? We have outworked and out-detailed and out-proceessed every team we've played against. We are relentless in how we play. Right now, we're getting run out of the building, and the only reason on the only shifts we've done well are straight ahead, are hard-working shifts, lunch-pail attitude. Which is what we've been doing. The skill comes out with this team when we do that, boys. Let's dominate the (expletive) out of the period. Let's take over. Let's take them right out of the fucking game. Let's not get flustered by what they're doing. Let's just zone in on what it is — we need to win this (expletive) game. I want these two points. I'm sure every guy in this room does too. We're down one-nothing, we have not played well. We're going to come back, we're going to storm this (expletive) team, and we're going to win this game, right? … Let's zone in, let's do it for each other, and let's build something.
"Let's give these fans something to cheer about, eh?" Jake DeBrusk replies as Foligno retreats to his locker.
— We pause for an awesome drone shot.
— In hindsight, DeBrusk's third-period performance was even more remarkable. The winger scored both Boston goals and then went on injured reserve a day later with both a wrist injury and a lower body issue.
— The mic'd-up Marchand spoke with DeBrusk on the bench at one point, explaining in detail how he thought the B's would have to "overload because the (defensemen) are pinching hard." Then, we cut to Marchand essentially crossing up Penguins center Jeff Carter, drawing defenseman Marcus Petersson toward him at the wall.
Marchand then passes to DeBrusk waiting at the goal line and yells, "Go!" DeBrusk then scores the game-tying goal.
— With the game tied, Patrice Bergeron skated by his own bench during a timeout and asks, "What are we going to do about it, black? What are going to do about this moment?" Moments later, DeBrusk scored the eventual game-winner.
— In the euphoric pandemonium of surviving the Penguins' last-second bid, Bergeron was the one to remind the team to salute the sold-out Fenway Park crowd.
— Back to DeBrusk: As the team retreated to the Red Sox clubhouse, he limps up the stairs, saying "Oh, God, I can barely walk."
— And finally, drawing back to his on-ice challenge about rising to the moment, Bergeron delivered the following postgame message to the rest of the room:
Boys, we talked about what we were gonna do with the moment, right? The last 20 was special. It was a moment we're never going to get back, but we'll remember forever, right? So let's never forget that. Let's always make sure to take care of the opportunities in front of us together as a team. It's never going to be perfect. That's the most important part is it's not going to be perfect. Let's not expect that. Let's play together and find ways and keep (expletive) grinding.