Let's just say this: There aren't any legitimate reports tying Lamar Jackson to the Patriots. In fact, as of Friday afternoon, there weren't any reports indicating New England is planning to do anything other than run it back with Mac Jones in 2023. That sounds like Robert Kraft's preference, anyway.
…But some chatter Friday morning on ESPN's "Get Up!" program is worth pointing out.
The Baltimore Ravens recently placed the non-exclusive franchise tag on Jackson, who is intent on landing a lucrative long-term contract. While under the tender, the superstar quarterback is free to negotiate with other NFL franchises. If another team signs Jackson to an offer sheet, the Ravens would have the opportunity to match the contract or refuse and receive two first-round picks as compensation.
The window for Jackson to speak with other teams opened Wednesday. He has until July (typically July 15) to sign the one-year, $32.4 million contract. It's unclear whether Jackson would plan to refuse to sign the tender in favor of either holding out for the contract he desires or forcing a trade. Teams also could negotiate a sign-and-trade with Jackson and the Ravens if they don't have first-round picks for the next two years or want to retain those assets.
Anyway, back to that ESPN segment.
Former Patriots edge rusher Rob Ninkovich is a huge Jackson fan and lobbied for New England to make a run at the 2019 NFL MVP. But it's the ensuing exchange between host Mike Greenberg and NFL insider Dan Graziano that was especially interesting.
(You can click here to watch the full segment.)
"If you're the Patriots, and you go and you make an attempt to get Lamar, that changes everything. Absolutely everything," Ninkovich said. "And listen, I am a huge fan of Lamar's style of game and what it puts on a defense, the stresses. And there's needs and wants, OK?
"A need is necessary for life. A want, it helps your quality of life. I don't need Lamar here, but I sure as heck want to see Lamar running around with a New England Patriot on his helmet. Because if you see it out there, the Patriots instantly, instantly, become division favorites and, to me, get right back into that Super Bowl hunt."
Again, those comments in and of themselves weren't too noteworthy. But the back and forth between Greenberg and Graziano might get Patriots' fan ears perked up.
"To be clear, we haven't heard any rumblings about New England being involved in this," Greenberg said. "And they did just take Mac Jones."
Graziano, tilting his head in that not-so-fast kinda way, then interrupted him, saying, "No, I would not rule that out."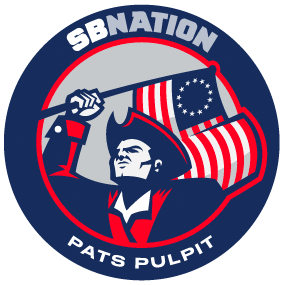 Wait, what? "Would not rule it out"? What does that mean?
Obviously, we have no idea whether Graziano was just messing around and/or simply co-signing Ninkovich's line of thinking. But league insiders typically don't dangle those kinds of carrots unless they know something.
Are we making too much out of this? Probably. However, if you're a Patriots fan who would love to see the franchise jettison Jones and import Jackson, this arguably is the first source of hope you've been given all offseason.
Ultimately, the most likely outcome remains New England beginning the 2023 season with Jones under center in a pivotal third year for the young quarterback. But perhaps you should keep these comments in the back of your mind in the days and weeks ahead.