All teams competing for a playoff spot look for pitching help before the Major League Baseball trade deadline, and the same is true this season. And now, unlike last year, the Boston Red Sox are part of that mix.
But what will they prioritize?
Starting pitching? Bullpen help? Both?
This is Chaim Bloom's first crack at being a deadline "buyer," so it's hard to predict what will happen. He could go big, or he could make a series of relatively quiet, but nonetheless quality, moves to fill out the holes in Boston's roster.
With Friday's deadline fast approaching, we took a look at five pitchers the Red Sox could target.
Let's get into it:
Max Scherzer, SP — Washington Nationals
Momentum Wednesday morning seemingly was building toward Scherzer heading out West, but the Red Sox still have been connected to the future Hall of Famer.
The 37-year-old Scherzer, who is a free agent after his season, isn't quite the pitcher he once was, but he remains one of the best in the game. The All-Star Game starter for the National League entered play Wednesday with a 7-4 record and 2.83 ERA in 18 starts for Washington.
He won't come cheap, but make no mistake: Scherzer would make the Red Sox a World Series favorite.
Ian Kennedy, RP — Texas Rangers
The 36-year-old's days as a starter are over, but he's found success as a reliever over the last few seasons.
Boston has one of the best bullpens in baseball, but it still could use help. The Red Sox's four most effective relievers — Matt Barnes, Adam Ottavino, Garrett Whitlock and Josh Taylor — all are on track for career highs in usage. Whitlock, a rookie, already is there. So, the bullpen could use some proven reinforcements.
Kennedy, a right-hander, has a 2.51 ERA and 1.052 WHIP in 32 appearances for the Rangers.
Jose Berrios, SP — Minnesota Twins
This would be a blockbuster trade, one that would cost Boston at least one top prospect — probably more.
We discussed it earlier this week: Berrios would be a game-changing addition for the Red Sox. When he's on his game, he's one of the most electric pitchers in baseball. Plus, he's not a free agent until 2023.
A Berrios-to-Boston trade feels unlikely, but the 27-year-old has been a popular name on the rumor mill and might be on the move before Friday. Perhaps Bloom pulls off a stunner.
Richard Rodriguez, RP — Pittsburgh Pirates
You probably haven't heard of him, but that doesn't matter.
Rodriguez is one of the most consistent relievers in baseball. Check out his numbers since he joined the Pittsburgh Pirates in 2018: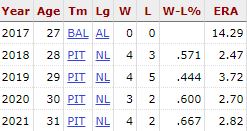 And he throws strikes: Over the last two seasons, Rodriguez has posted a 0.843 WHIP.
Rodriguez won't wow you, but he commands the strike zone, strikes out batters at a decent clip and doesn't give up many homers. The 31-year-old righty would be a solid addition.
Kyle Gibson, SP — Texas Rangers
Normally good-not-great starter, Gibson is having the finest season of his career — which should make you slightly nervous.
Still, he's 6-3 with a 2.87 ERA this season for a bad Rangers team and would slot in as a good mid-rotation starter for the Red Sox. The 33-year-old righty will be a free agent after next season.
If the price doesn't get out of whack, a Gibson trade would make a lot of sense for Boston.