We told you Bill Belichick was wrong to bench Demario Douglas on Sunday. But don't take our word for it — take Devin McCourty's.
Douglas, a sixth-round rookie receiver who already might be the Patriots' best pass-catching weapon, didn't play a single offensive snap against the Miami Dolphins after fumbling in the first quarter. New England went on to suffer a 24-17 loss in a game that Douglas absolutely could've impacted.
No Matchup Found
Click here to enter a different Sportradar ID.
McCourty, who hasn't shied away from voicing his opinion since retiring this past spring, was asked about Douglas' benching during a Wednesday appearance on WEEI's "The Greg Hill Show" program. But the Patriots legend couldn't get through the first question without interjecting with an honest reaction.
Story continues below advertisement
"Ahhh! I didn't like it," he said emphatically.
McCourty then was asked to share how he believes Patriots players felt about Douglas' benching.
"I think players, I don't think they're gonna take the mindset of like, 'This is terrible,' because it's one game, it's Week 2," McCourty said. "But I think they would've wished to see him in there."
McCourty finished with a long, fascinating thought on how different coaches handle different situations, and why Douglas should've played more. He referenced Greg Schiano, whom he played for at Rutgers, and took a guess at why Belichick really was mad about Douglas' fumble.
Story continues below advertisement
Here's the full quote:
"I remember Coach Schiano used to say that to us, like, 'A player messes up, I'm not gonna punish that player to hurt the team because then that's unfair to the rest of the guys.' But you might find a different way to show a lesson. And I think for a young guy, who when you look at just that one play, that one cut he made I think it was three or four guys miss. And Bradley Chubb makes a great play.
"And I think probably what pissed off Bill the most about this, I'm sure they talked about that. They talked about Miami flying around on defense. You're not safe even though you make the guy in front of you miss, because their defensive line plays hard, they chase. And they're gonna come from behind and strip the ball. And I'm sure he said it, and I'm sure that's what took him over the edge.
Story continues below advertisement
"But for that offense, Pop Douglas, there's nobody else on the offense like him. The only other guy on the team like him is Marcus Jones. So, unless you're gonna move Marcus Jones to offense, which doesn't look likely now that he went down last week, that kid has to play. He has to play. And not just like, show up a little bit — he needs to be out there a lot.
"Because you need guys that can put some fear in the defense. … You need that out there on offense because it changes the way some of those guys are gonna play defensively. And when Pop Douglas isn't out there, they really don't have that guy. They have good football players, but they don't have guys that have a different level of explosion and speed."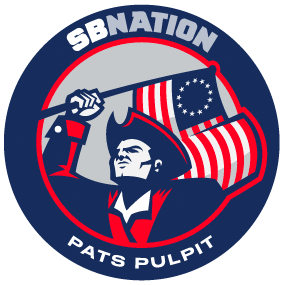 It'll be fascinating to see whether Douglas sees a bump in playtime in Sunday's road game against the New York Jets, and how comfortable he looks carrying the ball. The good news is the Liberty product showed a ton of maturity when facing questions after the game.
The Patriots and Jets will kick off from MetLife Stadium at 1 p.m. ET.
Story continues below advertisement
Featured image via David Butler II/USA TODAY Sports Images