The Boston Bruins took a 2-1 lead in their second-round Stanley Cup playoff series against the New York Islanders with a 2-1 overtime win Thursday night.
Here are some takeaways, thoughts and analysis from Game 3:
— This isn't the newest thought, but it was reaffirmed in Game 3: Taylor Hall has been an extraordinarily better defensive player than many expected, this writer included.
Hall credited his time playing for John Hynes in New Jersey as part of the reason the defensive side of his game has gotten better over the years. It wasn't great in Buffalo this season, but it seems Hall is so energized on his line with David Krejci and Craig Smith that he can't help but give a solid defensive effort.
Smith's goal in the first period to open the scoring all started because of Hall. With Mathew Barzal, one of the swiftest skaters in the NHL, weaving through the neutral zone, it was Hall that tracked him down. Hall pulled off a tremendous back check, something he's done a few times in a Bruins uniform, which allowed Matt Grzelcyk to get possession and start the rush going the other way.
For a while, the Bruins were one of the teams speculated to be a fit for Mike Hoffman, a gifted offensive player with a woeful defensive game — which his apathy about playing defense suggests is a fact he's aware of. The Bruins elected not to go that route, presumably in part because head coach Bruce Cassidy demands his players give a damn defensively. Hall is showing that predominantly offensive players can still be very useful on defense in Boston's system.
— Though Barzal got worked over on what eventually became Smith's goal, he did have New York's only tally of the game.
But it came on a baffling play from the Bruins' defense.
A Ryan Pulock shot from the point went wide, and both Connor Clifton and Curtis Lazar gave chase to it by going to the right of the net. The problem was Barzal was in the process of collecting the puck, and nobody was even near the left post, Tuukka Rask included.
Here's where everyone was when Barzal got the puck.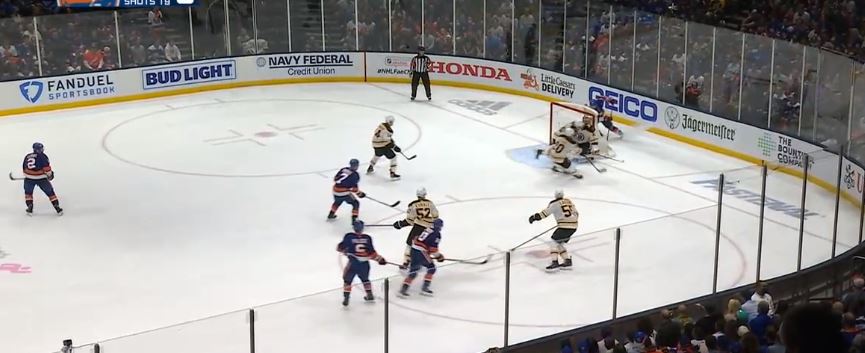 Not ideal.
What made it worse — and perhaps was the most unforgivable part of the goal — is that Barzal got three whacks at Rask before burying the puck home. Bruins players went for the stick of Barzal instead of just blowing him out, which would've put a stop to the play.
Rask shouldered the blame for the goal, but he is one of the least culpable players in this situation.
— Ultimately, that marred what otherwise was a bounce-back performance from the Jeremy Lauzon-Connor Clifton pairing.
Lauzon, of course, made the ill-fated pass in Game 2 that allowed Casey Cizikas to score the game-winning goal in overtime.
But in Game 3, Lauzon was smart with the puck while not being overly cautious, and he did a mostly good job in his own zone. The loss of Brandon Carlo forced Cassidy to lean on Lauzon and Clifton even more than he otherwise would have, and they were up to the challenge.
— If Carlo misses any time, then the likely next man up is Jakub Zboril, provided he's healthy and Kevan Miller isn't. If that proves to be the case, then putting Lauzon on his off side with Mike Reilly probably makes the most sense. Then, Zboril goes with Clifton.
Cassidy said he talked to Carlo after Game 3 and that Carlo was talking to teammates. As a result, he hesitated to rule Carlo out for Game 4 right away. That's obviously something important to monitor.
— The fourth line had been a strength for the Bruins, but they had some tough shifts in Game 3. It might be worth revisiting the construction of that line.
New York forechecks so hard, and, frankly, the Bruins need better puck-carriers on that unit right now. For that reason, it makes sense to give Karson Kuhlman another look in the lineup in place of Chris Wagner. Kuhlman hunts pucks like a menace, which could compliment the straight-line game Sean Kuraly plays well.
Kuhlman's speed could be an asset in getting out of the defensive zone, where that line takes the majority of its draws, and keep the Bruins out of more high-risk situations.